IoT (Internet of Things) enables easy communication between devices and company systems. Devices can include anything from ordinary consumer objects to machines or production lines. If used correctly, collected data can improve many activities that are part of your business processes. A well implemented IoT solution allows you to monitor and manage business processes, automate services and procedures or better interact with your customers or suppliers. Soitron will help you develop a comprehensive IoT strategy, which is key to the success of digital business transformation of any organisation.
In the following IoT solutions map we have chosen the best devices, transmission networks and software platform. For each of your projects suitable data visualization and its export to other systems is provided.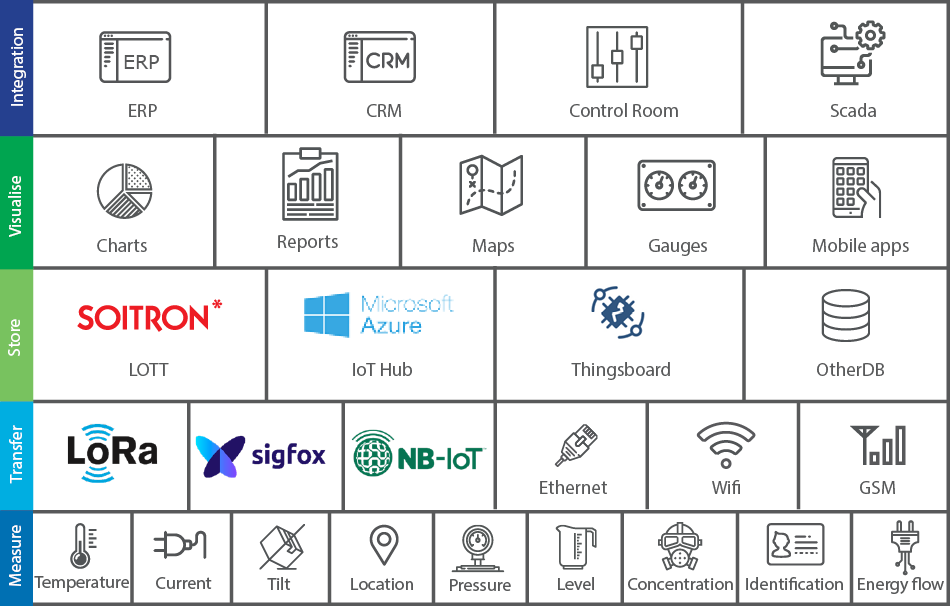 For its customers, Soitron Group has created a unique LOTT
platform which enables connecting of devices from different
manufacturers and network operators. The platform enables
implementation of comprehensive IoT solutions ranging from
data processing, device management, output visualization
and integration into other systems. As part of the package you
will get support with the installation process and integration
of networks from different providers of SigFOX, LoRaWaN, and
NB IoT technologies. In addition, LOTT is flexible to be tailored
to the specific requirements of every customer.
1
Analysis and solution design
Analysing your processes, proposing suitable use cases and designing a solution.
2
Pilot project
Pilot project implementation including communication with network providers, its monitoring and support.
3
Validation
Verifying outcomes of the pilot project and fine-tuning the final solution.
4
IoT solution and support
Implementation of the IoT solution and providing support and consultations.